TOP 10 FMCG COMPANIES HIRING
Jan 15, 2019 V4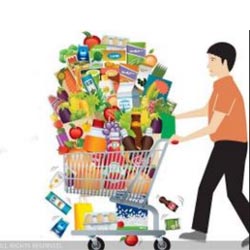 Fast Moving Consumer Goods (FMCG) denotes goods which are of quickly sold and which relatively cost less. Many FMCG items meet daily needs of every household and hence the demand remains high and on certain festivals and holidays these demand spikes!
FMCG is the 4th largest sector in the Indian economy with a market size of ~US$50 billion. The sector is further expected to grow at a CAGR of 21% to reach ~$105 billion by 2020. The Government of India has also eased Foreign Direct Investment (FDI) approval to permit 51% and 100% in multi and single brand retail respectively.
Industries and Products that are covered in this sector include:
· Processed Foods- breakfast Cereals.
· Beverages- juices, bottled water, tea, coffee
· Cosmetics and Toiletries - lipstick, hair oil, creams, lotions, shampoo, bath soap, face wash.
· Over the counter drugs – i.e. Cough, cold, fever, headache.
· Toffees and Sweets - chocolates, energy bars, other traditional preparations.
· Foods:
o Ready-To-Eat - idli, dosa batter, noodles, breakfast / other items.
o Fresh - Vegetables, Fruits.
o Frozen - meat, ice-cream.
o Baked - cakes, pastries, breads.
· Office Supplies- pen, pencil, paper, stapler
· Household cleaning items - dish wash liquid, detergents.
· Clothing - Essential clothing such as inner-ware, kerchiefs, socks.
The following are some critical demand influencers of FMCG sector:
* Income levels: Depending upon their Purchasing Power Parity (PPP) the demand for buying a particular product will differ.
* Culture/ Outlook: Cultural outlook of either lavish or frugal lifestyles influence demand.
* Health - Products that are supposed to promote good health will have higher demand.
* Convenience / Time saving- Products which are designed to ease daily rigors of life will in general be most welcome - Ex. readymade batter, foods etc.,
* Peer Pressure - A consumer not buying a particular brand before will slowly start to go for it just by hearing some good things from his neighbors, friends. This creates an urge to try the product.
* Fashion trends- Changing trends and styles influences specific segments significantly.
* Promotional policies and advertisements: Promotional policies like gift coupons play a key role - E.g. Gift coupons given on some festive and special occasion. Also, brands endorsed by high profile personalities - like sports persons, actors will gain customer traction for eventual buy!
* Vast distribution networks: Having pan-India distribution network will help to sell more.
* High innovation and changes - Just to retain customers on a long term basis with better brand recall, it is important to constantly innovate and interest the customers either with unique qualities or changes in packaging designs!
Employment opportunities in this sector are in majorly in the manufacturing units, product design, packaging, branding and sales promotion, warehousing, supply chain management, logistics and customer relationship. According to published trends the following companies are active in hiring:
1. Hindustan Unilever Limited
2. Britannia Industries Limited
3. Proctor and Gamble India Limited
4. Pepsico India Holdings Private Limited
5. Nestle India Limited
6. Dabur India Limited
7. Patanjali Ayurved Limited
8. Amul [Gujarat Cooperative Milk Marketing Federation]
9. ITC Limited
10. Godrej Consumer Care Private Limited.
Employment in FMCG sector requires precision, speedy execution, multitasking, innovation and good soft skills. This sector is sees constant churn in resources and organizations should be agile to recruit and retain right resources @ the right time and place! V4 Solutions - www.v4solutions.in can be your trusted partner to service all your staffing needs efficiently. We have impressive clientele across various industry verticals with sector specific deep insights which can be a great differentiator to tailor staffing solutions!
---