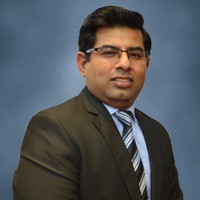 Mr. Sandeep Arora

Founder and Chairperson
An alumnus of the prestigious IMT Ghaziabad, Mr Arora boasts stellar academic credentials and is a certified MBA with specialization in Human Resource and Marketing. He is a true visionary who had the foresight to spot the immense potential in the growing recruitment industry way back in 2008 and launched V4 Solutions in order to tap into the rapidly changing needs of the dynamic space. An outright go-getter, Mr Arora is highly respected by his peers and sub-ordinates for his ability to think out-of-the-box and his willingness to take risks and venture into uncharted territories. Backed by his sound business development ideas, technical expertise and his able leadership and guidance, the company has grown by leaps and bounds and has firmly established its footprint as a reliable HR consultant in the professional recruitment sector. Apart from his significant contribution to the smooth functioning and expansion of V4 Solutions, Mr Arora is also known to be an extremely social and creative person who is always on the lookout to make a positive impact on the society with his thought-provoking blogs and articles. An avid reader, he is equally enthusiastic about politics and doesn't fail to impress his listeners with his vast knowledge of various subjects and his uncanny take on matters of national relevance. Those who know him closely or had the privilege to interact with him, vouch for his polite behavior and his unbelievable patience, even during times of crisis. His practical insights and futuristic vision are crucial to the continual success of V4 Solutions, its team members and its clients.
V4 Specialist team comprises of Account Managers who are present Pan India who are experts from the executive search industry with relevant experience and the zeal to deliver the best. It is due to their winning attitude that we are able to offer superior quality geographical talent and satisfaction to our clients. The Domain-wise trained Team Leaders whose insight and intelligence complimented with the passion to excel through committed research helps us produce successful recruitment results. Team of Recruiters comprising professionally qualified experts from different functional areas to understand a variety of client needs had empowered V4 to develop successful partnerships with the Clients and Candidates.
At V4 Solutions we provide Paid Internship Opportunities to students interested in gaining work experience in particular industries. These internships are usually two to six months full-time. An internship at V4 Solutions can be an excellent way to "try out" a certain career. For instance, you may think you want a fast-paced job in advertising after college, but after an internship, you may find that it's not for you; that's valuable insight that will help you choose your career path.
V4 Solutions extends full-time job offers to exceptional interns, though this is not guaranteed and is the exception rather than the norm. Positioning yourself as a hardworking, reliable worker puts you in good standing for consideration.