Recruitment Looks Easy But Is Complicated
Jan 15, 2019 V4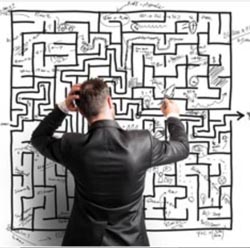 Recruitment Looks Easy But Is Complicated
Recruitment is a core function of human resource management. It refers to attracting, selecting and appointing suitable candidates for employment either (temporary/permanent) within an organization. While in many organizations recruitment is handled 'in-house', currently many of the activities are outsourced to specialist agencies as a part of 'Recruitment Process Outsourcing'. Also, technological advancements are leveraged in the process through web conferencing etc., which minimizes the cost as well as time taken to complete specific activities. Recruitment in general involves multiple agencies to scout and recruit the Right Person! @ Right Time!! @ Right Place !!!

The objective of recruitment firm & recruitment function is to help the organization employ candidates with the right 'overall talent' to service the business objectives effectively. More than job related skills, it is important to recruit candidates who are 'Team Players' with a positive, 'can do' attitude. Hence, the process is multi disciplinary involving assessment of varied dimensions of a candidate's personality ranging from technical to behavioral, cultural, ethical and soft skills to name a few! Recruitment is a time bound activity since man power requirements needs to be filled within a specified date. The process usually starts with man power planning which projects the levels, count, skills and time by when the whole process should be completed. At a broad level, 2 sets of dimensions influence the process i.e.:

Industry: Every industry has some baseline skills and requirements which the candidates are expected to posses - Ex.- Police force requires candidates who are physically fit, investigative mindset, time management. Doctors are expected to possess prescribed qualifications with a pleasant demeanor.

Organization: Each and every organization has their own set of
• Objectives which the candidates are expected to meet
• Cultural and behavioral skills.
• Degree of subject matter expertise
• Work practices, integrity, managerial skills.
Some critical factors which pose challenges include:

Manpower Planning- Should be futuristic and driven by the Organization's vision to foresee newer and contemporary skills which the future demands. Recruiting candidates with varied experience, levels and skill sets.

Recruitment covers all levels from New College Graduates (NCG) to lateral hires to senior and top management functions. The techniques/methods followed should be flexible.

Job Description / Roles and Responsibilities - The job functions which are expected to be handled by the candidate should be clearly defined. This will be helpful to set the right expectations.

Identify source of candidates- This is most relevant for entry level recruitments which require lot of relationship building with educational institutions. Currently social media is being used for initial spotting of talent.

Assessment of candidates - No organization will get a 100% fit candidate with all the requisite traits. Assessment involves many dimensions and outcomes need to be carefully balanced to arrive @ the overall ' best fit' candidate!

Objectivity - While the selection process at entry / mid levels may be relatively more objective - for higher cadres the assessment may be largely subjective - with the involvement of both the assessors and candidate. Surely, it is a very delicate process to balance and arrive at a suitable conclusion on selection matters!

Co-ordination / Tabulation - A recruiter has to depend upon SMEs and other HR / Managers to assess specific qualities and hence there is a need to schedule and co-ordinate all such meetings at time slots convenient to both. Also, at the end of every step a written record of assessment needs to be obtained from the concerned assessor which is the basis for compiling candidate profile summary before a decision on recruitment is taken.

Ultimate success of recruitment lies in the selected candidate settling down very well in the Organization quickly, delivering optimum results and eventually staying in the organization for a reasonable period of time, as this ensures that the process is not repeated frequently for the same position! Surely, this is tough task though looks simpler from outside! V4 Solutions follows a very transparent and trustworthy process to be your 'go to' partner for all staffing needs, executive search, permanent hiring, recruitment services and hr consultancy rule.
---